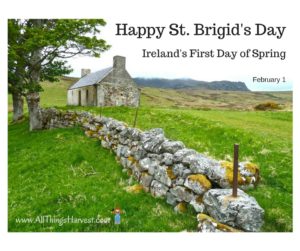 St. Brigid is one of Ireland's most popular saints–second only to St. Patrick who was responsible for her conversion.  Her feast day coincides with ancient Imbolc which heralds the return of Spring.  Brigid shares the name of the Celtic goddess that is associated with Spring, fertility, and healing.  St. Brigid was born to a pagan father, who was a chieftain, and a Christian mother, who was a slave.  Hence Brigid was born a slave and spent part of her childhood in slavery.
St. Brigid was known for her charity and freely gave whatever she had to the poor.  When just a child she gave away all the butter in her home to help feed the poor.  It is said to have been miraculously replenished when St. Brigid prayed.  Butter plays a part in some of the traditions that are celebrated on St. Brigid's Day.  One of  these traditions includes dressing the butter churn as St. Brigid.  Another is to leave butter outside on the window sill so that St. Brigid can bless it on the eve of her feast day.  It is said she visits homes throughout Ireland to bestow a blessing on that very night.  The story of St. Brigid and the butter is captured here in this book for ages 4-7 that shares the delightful story of St. Brigid's charity.   http://amzn.to/2nAvb6Y   (not an affiliate link)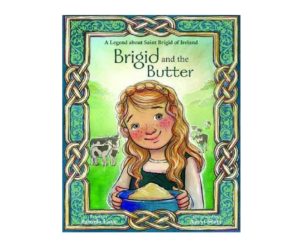 St. Brigid is known for founding a monastery called the Church of the Oak on the site of a pagan shrine to the Celtic goddess Brigid.  She is known for helping to establish communal consecrated religious life for women in Ireland.  She also established two monastic institutions–one for men and the other for women.  In addition, she is credited with founding a school of art that was known for metalwork and illumination.  The Book of Kildare, which was lost during the Reformation, was created at the school and was said to have been so beautifully illuminated it was as if done by angels.
The most common symbol of the day is St. Brigid's cross which is made from rushes or straw.  The tradition includes making a cross that would then be hung within the home or at the front door as a symbol of blessing and protection of the home from fire.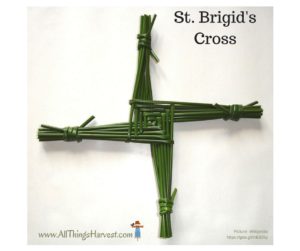 Making your own St. Brigid's cross is a simple way to celebrate St. Brigid's Day.  Follow this link for a larger picture of the instructions below:  http://www.carrigalineparish.ie/download/st-brigids-cross/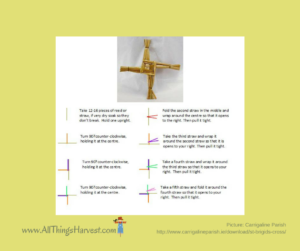 You can discover more about St. Brigid and the traditions of this day at Irish Central by following this link:   https://goo.gl/qGHzHC
Until we meet again, may God hold you in the palm of His hand.
~ An Old Irish Blessing
Marian McCoy Boveri
Sources:  Wikipedia