Thanksgiving, as we have come to know it, is a day set aside during November in which to express gratitude for the blessings received in relation to the harvest.  It comes at the end of November when the harvest season has finished and the many tasks of preserving the harvest have been completed.  As with all traditions, it is also a time of remembrance and a way of connecting the present to the past as well as to the days to come.
Harvest season was traditionally a time of preparation for the long winter ahead when food was scarce and surviving the winter was indeed a challenge.  So many of us today are disconnected from the struggles that the winter season brought to just survive.  It is through the traditions of taking time out to be thankful for all we have received and been given that we remain connected to those that went before us.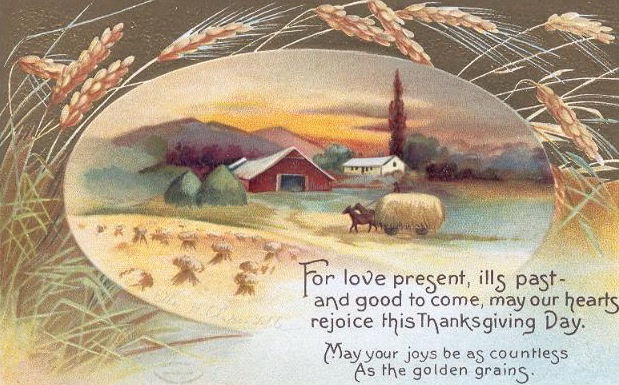 As you celebrate Thanksgiving this year be mindful of the traditions of the day–both old and new.  It is these very things that keep us connected to all generations.  Sometimes it is the simplest of things that create our special memories.  Be conscious of these traditions–both large and small–this year.  Take time to treasure your family through the traditions of the day.
Thanksgiving is also a great time to take stock and reflect upon the fields we have sown into during the past year and assess the yield they have brought in harvest.  What have the harvests of your fields produced?  Did you sow into a field and then cultivate it so that the harvest was abundant?  Did you sow into a field and then have the seeds eaten by the birds (oh and they will come) or did your field become choked with weeds?  Were you a good steward of all that has been given to you?  These are the things to reflect upon in our gratitude in order to have a chance to secure a better harvest in the future.
So I invite you this Thanksgiving to celebrate the harvest of all the fields of your life.  Count your blessings not only in abundance but in lessons learned.  Take time to reflect upon your fields.  Ready the soil of the coming year through the reflection of your blessings and even your lessons.  There is always something to be grateful for and it is through thanksgiving that we cultivate our fields for future blessings.
Wishing you and your family a most blessed and Happy Thanksgiving!
Until we meet again, may God hold you in the palm of His hand.
~An Old Irish Blessing